Jeff Kauffman, Jr.
28 February 2023
Read Time: 5 minutes
Today we're introducing In-Article Tokens, a new way to engage with Jump News.
Scroll to the bottom of this article to see the In-Article Token live
In-Article Tokens give readers the ability to collect important moments and ideas that matter to our community.
JUMP community members will soon be able to showcase all NFTs within our ecosystem on their member profile page.
Below is a member profile mockup where you can see how this will come to life with our current line up of NFTs.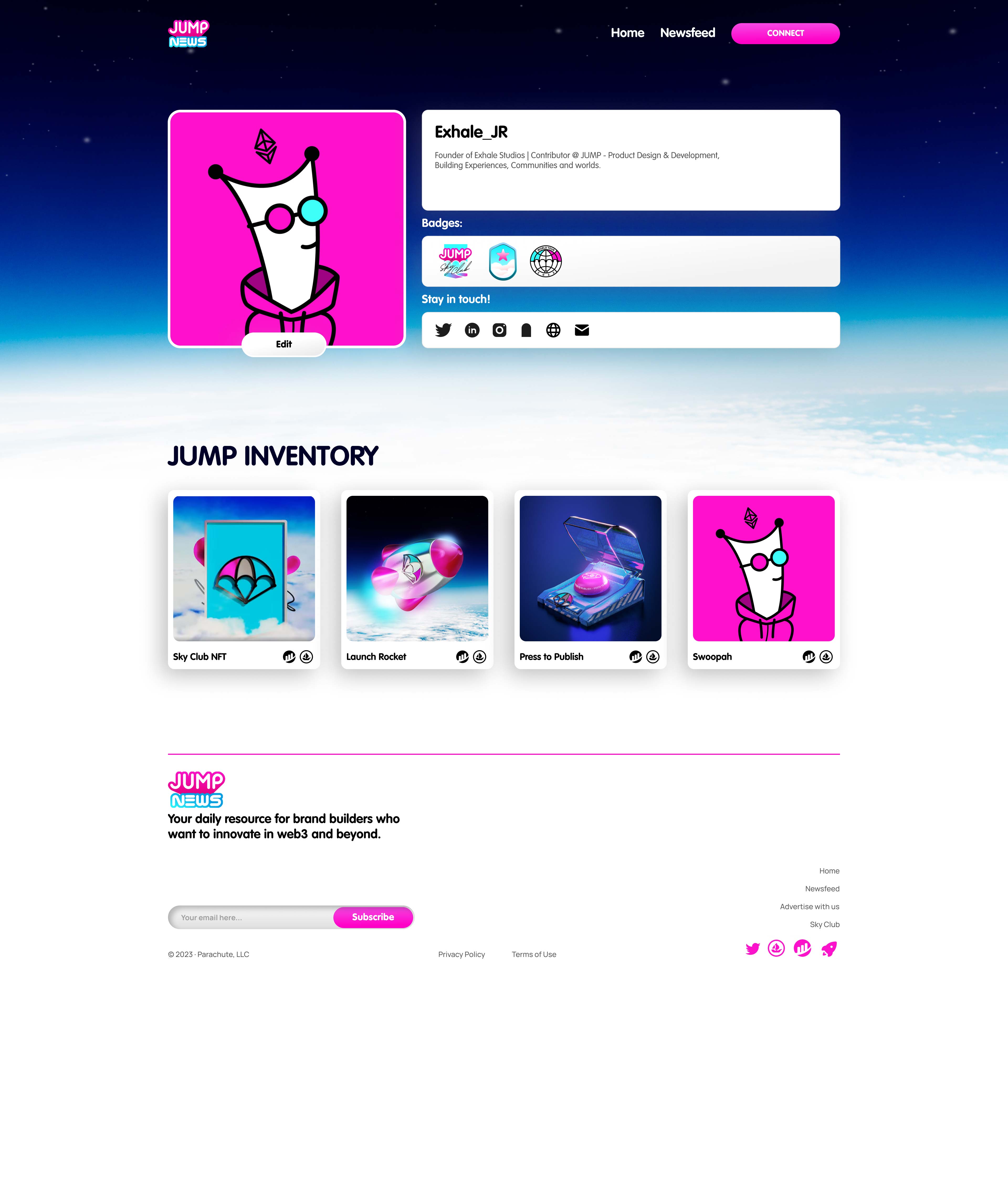 Let's celebrate
To celebrate today's product launch, we're releasing the Press To Publish NFT. You'll find today's In-Article Token at the bottom of this announcement.
A total of 100 NFTs are available at a price of 0.01 ETH each. Up to 10 NFTs can be minted in a single transaction.
The mint window to collect this celebratory moment is 7-days.
After 100 NFTs have been minted, or at the end of 7-days, the mint window will be closed.
Collecting this NFT shows your support for JUMP and our entire community ecosystem.
When member profiles are launched, you'll be able to showcase your patronage and display the Press To Publish NFT.
Product overview
Let's get into the nuts and bolts for how this product works.
It was important to create a product that stripped away the complexity of interacting with blockchain products, while not compromising on the benefits of web3.
To accomplish this, both fiat and ETH payment options are available.
Here's what's really cool.
For those who mint using a fiat currency, the payment is converted to ETH on the back-end. The significance of this cannot be under appreciated.
Why? Converting fiat payments to on-chain crypto assets at the moment of transaction allows Internet native organizations and communities to thrive.
We believe this product is a portal into the future. It's a future where interacting with web3 is easy, while also leveraging the endless possibilities of borderless collaboration at Internet scale.
There are a few other features within this product that are worth highlighting.
Here's a full summary:
The minter can be configured to deploy either free or paid minting options; for paid mints buyers have the option to pay with a credit card or ETH
The quantity (supply) can be fixed or open edition
A mint window end date can be set or left open
The ability to mix and match these levers will give Jump News the capabilities to reimagine how a media and journalism brand can operate.
Looking ahead and future use cases
There are many possible use cases for a product like this, but there's one in particular that gets us most excited.
It sits at the intersection of community, sharing ideas, and celebrating patrons.
With season one of our Writers Group underway, it's not too hard to image how a product like this could be used in the future.
Combine In-Article Tokens with the upcoming launch of member and author profiles, and it becomes even more exciting for how all of these pieces can fit together.
As we continue to build these products, we will work with select writers to help them share their ideas with the world in a way that celebrates the patrons who support their work.
The exact mechanics for how we will select these writers, along with many other details, are still being worked on.
Until then help us celebrate this moment by minting Press To Publish!